Importing and executing JAR files
Since Automation is Java-based, Java programs can be invoked in a test case to execute certain functionalities. This is generally done by importing external JAR files into Automation and invoking the classes and functions inside them.
Step 1: Navigate to the lib folder in the Navigator. (Create a new folder named lib if this folder does not exist.)
Step 2: Copy the JAR files you wish to import under the lib folder.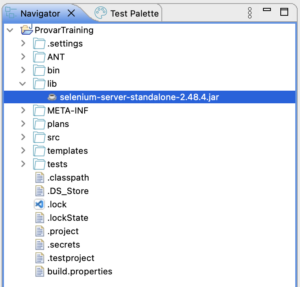 Step 3: Right-click on the Project name and select Properties.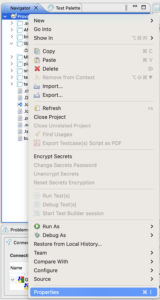 Step 4: Select Java Build Path and click the Add JARs button.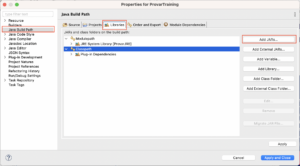 Step 5: Select the JAR files copied under the lib folder in Step 2 and click OK. The JAR files should now appear in the build path list.
Your JAR files are now imported and ready for use.
Note: You can also invoke the Java code from these Jar files in Page Object Operations for UI actions.