Incorrect Provar installer file
---
If you are getting the following error when launching Provar after installing Provar:

This is because you have installed a 32 bit installer on a 64 bit Windows OS or vice-versa. To resolve this, download and install a compatible version of Provar. If you are using 32 bit OS then execute the corresponding 32 bit Provar installer. Similarly, for a 64 bit machine, download and install the corresponding 64 bit Provar installer.
Examples:
For 32 bit – Provar_setup_v1.x.x.xxx_win_32
For 64 bit – Provar_setup_v1.x.x.xxx_win_64
Update issue: NSIS error
---
If you get this error message when installing Provar.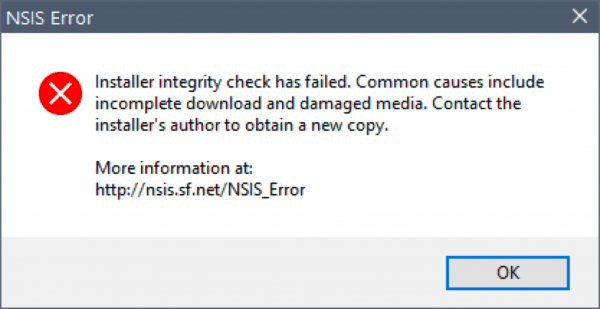 First, check that you have downloaded the correct installer and chosen the correct 32-bit or 64-bit version.
If you have the correct installer, next check whether your computer is running anti-virus software and disable it before re-downloading the installer. This can resolve this type of error.