Adding a Salesforce Portal Connection
To add a connection to test as a portal user, create a new connection and add a connection name. Refer to Steps 1 and 2 of Adding a Salesforce connection. Then, complete the following steps.
Step 3: Set the Connection Type to Salesforce, then choose Salesforce Portals Connection.
Step 4: Specify whether the user is also an internal Salesforce user or whether they are purely a portal user.
If the user is an internal Salesforce user
---
Use Log-on As to make the Connection:


Then specify the Portal Name / ID. This can be found in the Portal ID field of the portal detail page within Salesforce, accessed via Setup > Customize > Customer Portal > Customer Portal Settings.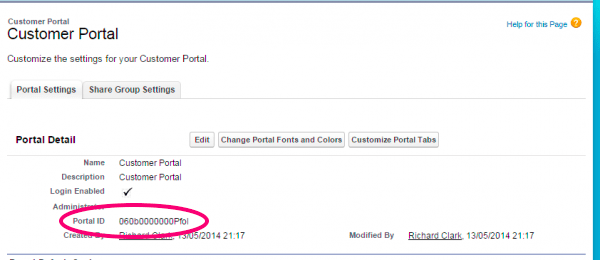 Finally, specify the the admin connection to be used in Log-on As Connection and the Salesforce username of the new portal user in Username.

If the user is not an internal Salesforce user
---
Use Normal Log-in to make the connection. Specify the Portal Name / ID (see above), then, as usual, enter the Username, Password, and Environment type. This will control the Salesforce screen used to log in.

In Advanced Settings, the Metadata Connection and Partner Connection should also be set to an admin connection previously added.
Step 5: Click the Test Connection button to validate the connection details, then click the OK button.