Installing Provar Automation
Before beginning the installation, first, check that your machine satisfies the system requirements for running Provar Automation effectively. Then, check that you have the following elements ready.
Prerequisites
---
Login details to your chosen Salesforce environment, including a username, password, and security token. The login user must have system administrator permissions with Modify All Data and API Enabled ticked on their profile. This is needed so that Provar Automation can access the environment's metadata.
A Provar Automation license key.
A Provar Automation installer program. Automation is compatible with Windows and Mac operating systems – ensure you have the appropriate installer for your machine. You can access the latest Automation installer files from the Provar Success Portal.
If you do not have a Provar Automation license key or the installer program, contact your designated Provar support rep or support team at support@provartesting.com.
Installing Provar Automation
---
Run the Provar Automation installer you have previously downloaded. Follow the on-screen instructions to complete the installation, then launch Automation.
Selecting a Workspace
---
A workspace folder will save all your Test Project data on your computer.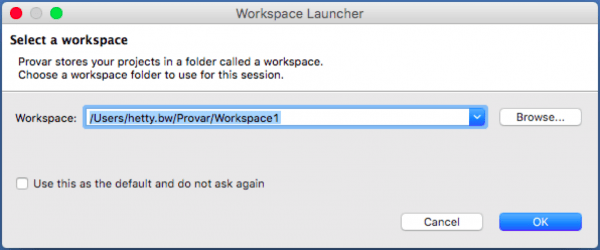 Select your preferred location for the Workspace.
It is recommended to leave the checkbox unticked. Use this as the default, and do not ask again. This will allow you to switch your workspace to have multiple Test Projects.
Click OK to continue.