How to Use Provar Manager
In this section, we will explain what Provar Manager is, what it can do and why it is useful as well as show how to take advantage of its main features.
What to Know Before using Provar Manager
Overview of a Testing Life Cycle
Testing is an important aspect of any software development life cycle, involving a wide variety of activities that can also be defined as a separate life cycle running sequentially (i.e. Waterfall) or in parallel (i.e. Agile). Depending on the chosen approach to software development (e.g. Waterfall, Agile, etc.), these testing activities will occur at different times, with more or less level of importance, and with varying levels of detail.
Regardless of this, the activities themselves can be categorised as follows:
Requirement analysis – where the QA team tries to understand the software requirements in detail, often communicating with various stakeholders, and starts considering what sort of tests should be done and in what way (e.g. manual vs automated).
Test Planning – where the QA team determines the strategy, resources, limitations, efforts, and costs involved in the testing endeavour.
Test Case Design – where the QA team creates, verifies, and improves test cases and test scripts.
Test Environment Setup – where the QA team decides the software and hardware conditions under which the applications will be tested and also performs readiness checks of those environments.
Test Execution – where the QA team carries out their testing based on the designed test cases and according to the test plans. These activities include the execution of test scripts, their maintenance, and the reporting of bugs.
Test Result Analytics – where the results of the previous testing activities are collected so that the QA team can meet, discuss, and analyse the data to improve future executions.
Provar Manager's Approach
Provar Manager aims to support your team with each one of the above activities by offering a lightweight framework to manage your testing life cycle. This framework is founded on the principles that Provar Manager should adapt to your needs (flexibility), it should be part of your toolchain (interoperability), and it should provide actionable insights (actionability).
Whatever your maturity level, you are free to use in any measure what Provar Manager provides and are encouraged to adapt and extend the app by leveraging the Salesforce platform (e.g. new objects, fields, UI components, backend automation, new integrations, flashy charts, etc…).
Accessing Provar Manager
Provar Manager comes with its own Salesforce console app that contains all the relevant tabs for elements like Test Projects, Plans, Test Cases, Defects, Reports, and Dashboards.
In Salesforce, click App Launcher and enter "Provar Manager" in the search box to find the app.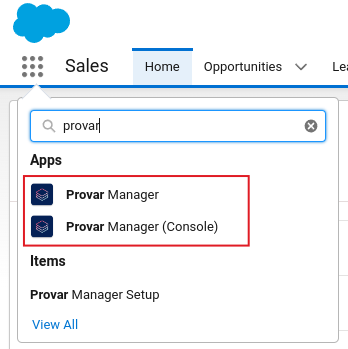 You will see the Provar Manager under Apps, click on it.
A Provar Manager screen will be displayed.