Setting Up a Connection to Provar Manager
The Provar Manager connection establishes a connection with a Provar Manager instance. It is configured by creating a Provar Manager connection via the Connection tab. The Provar Manager connection (leveraging a normal Salesforce Connection) only requires a user login via OAuth Web Flow.
Prerequisites
There are some prerequisites for setting up a connection to Provar Manager as listed below:
A Salesforce org with Provar Manager must be already installed.
A Salesforce user with a Provar Manager license assigned and the Provar Manager permission set assigned too.
How to set up an OAuth Web Flow connection to Provar Manager
Step 1: Create a Connected App.
Step 2: Create a Provar Manager Connection (OAuth WebFlow).
In the Test Settings, navigate to the Connections tab and click the plus (+) sign. The Add New Connection screen is displayed. Give a Connection Name and create an OAuth WebFlow Connection. In the Connection Type field, select Provar Manager then select Provar Manager Connection.
For more information, please see Salesforce OAuth (Web Flow) connection.
In the created OAuth WebFlow connection, you have to provide the details of the Consumer Key, Consumer Secret, and Callback URL that is a part of OAuth WebFlow connection.
Note: The above 3 fields are not the credentials of the user but they are the credentials of the Connected App.
Click Authorize, and it will ask for your credentials; provide your credentials, and when the authorization is successful, the Access Token and Refresh Token are populated.
Note:
Provar Manager is only available via the Salesforce Lightning Experience.
Only one Provar Manager connection can be set.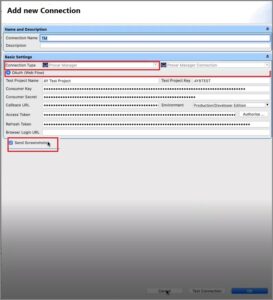 Above: Snapshot of creating a Provar Manager Connection.
When the Provar Manager connection is created, you can see it under the Connections tab.

Above: Screenshot of Provar Manager Connection in Provar.
Creating and linking the Test Project in Provar Manager
Once you have created the Provar Manager connection; a project is created in Provar Manager with a Test Project Name and a unique Test Project Key. For example, the project AY Test Project is created in Provar Manager which has a unique key.
If a user wants to link a Provar test project with an existing Provar Manager project then he has to provide that key (unique key) while creating the Provar Manager connection in Provar.
Note: The project was created in Provar Manager with the same name and unique key.
In Provar Manager –
Log on to the Provar Manager. Click Environments > Test Projects. You can see the AY Test Project created in Test Manager.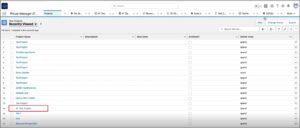 Above: Snapshot of the Project created in Provar Manager.
Click on the project (AY Test Project), and you can see the details of the project.
When you click on the project, you can see Test Plans inside it. When you click on Test Plans, you can see Test Suites (these are Test Plan Folders in Provar) and Test Cycles inside it.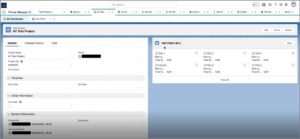 Above: Details of the project created in Provar Manager.
Uploading screenshots
To upload screenshots, we have provided one option at the connection level. You can now select the Send Screenshots checkbox in the connection dialog box to upload screenshots.
This option is now available. If you have selected this checkbox then whatever screenshots are captured, they will all be uploaded. If it's unchecked or de-selected, then no screenshot will be uploaded.
Note: The screenshot capture is allowed only in UI API's. For example, in the UI Assert test case in the above test case example, you can see the options:
screenshot before
screenshot after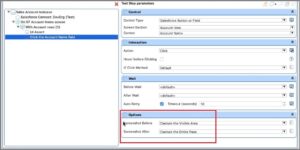 Note: In case of an error, a screenshot will always be created and uploaded. So, the maximum number of possible screenshots on a test step execution is 3 (before, after, and on-error). The screenshots can be identified as (before_ and after_).
Removing a Provar Manager Connection
Removing or deleting a Provar Manager connection removes all the Provar Manager associations. Right-click on Provar Manager connection to delete and the Provar Manager connection is deleted, and the context menu Upload to PM won't be visible in Provar.