Secure Login with Multi-Factor Authentication (MFA) in Provar
This article provides information for users who want to use Multi-Factor Authentication (MFA) to securely log in to applications. Users can use this feature to launch apps and create Provar scripts with enhanced security features.
The feature allows support for various TOTP providers like SF Authenticator, Google Authenticator, and more. The established connection can be used in all execution modes, including Run, Debug, and Test Builder while maintaining the session. The Auth Handler page object file should manage MFA TOTP scenarios, including TOTP generation and code entry on the login page.
Note: The user must enter all of the information in the Auth Handler Page Object file just once. The login sequence and success condition must be maintained by the user in the Auth Handler Page object file. Some key points to note for the secret key:
If the application provides the key in small letters then the user needs to convert it into capital letters.
If the application provides the key number of characters that are not divisible by 8. then the user needs to add equal characters to make it divisible by 8.
Follow these steps to use MFA with Provar.

1. Create UI Connection by selecting the MFA checkbox.
2. Provide all required details along with the Auth Handler file and security key.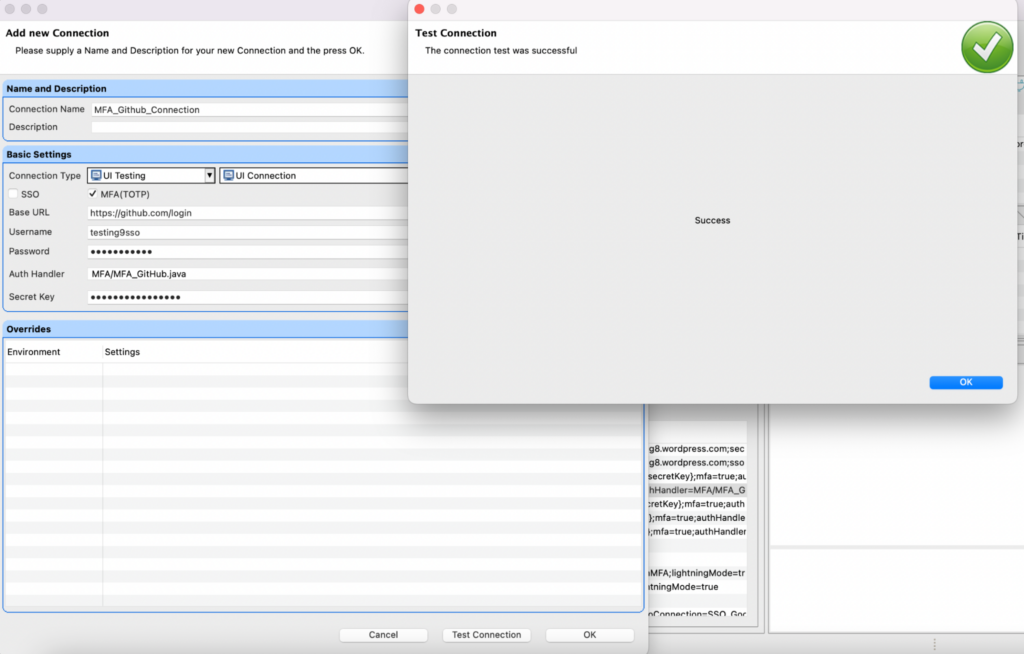 3. Verify connection using Test Connection and Click Ok
Provar's increased security capability for logging into applications with MFA allows users to write Provar scripts in a secure and flexible manner. Secure login processes can be seamlessly integrated into users' testing workflows.