Welcome to the Provar Success Portal! Need help? We're here for you.
We know that providing access to the answers you need is essential. That's why we created the Provar Success Portal. It's designed to make it easier for you to get critical information and resources. And pronto. So you can get back to testing cool stuff.
What is the Provar Success Portal?
---
Using this one-stop shop, you can raise tickets, download the latest releases of Provar, and communicate directly with Provar testing experts. All in one place!
How can I access the Provar Success Portal?
---
All Provar customers will receive a welcome email from the Provar Success Team that includes a link to activate your account, and you will be prompted to create a password. (Be sure to hang on to that for future reference.) Each of your team members will have their own unique login credentials, but as a team, you'll be able to collaborate on issues together.
Once you activate your account, you can start using the portal to raise cases and check on the status of those requests.
Once you set up your account, click Login in Provar's main website menu or bookmark the Provar Success Portal at success.provartesting.com.
In addition to raising a case, what else can I do in the Community?
---
You can also download the latest versions of Provar installer files and release notes in the Provar Success Portal.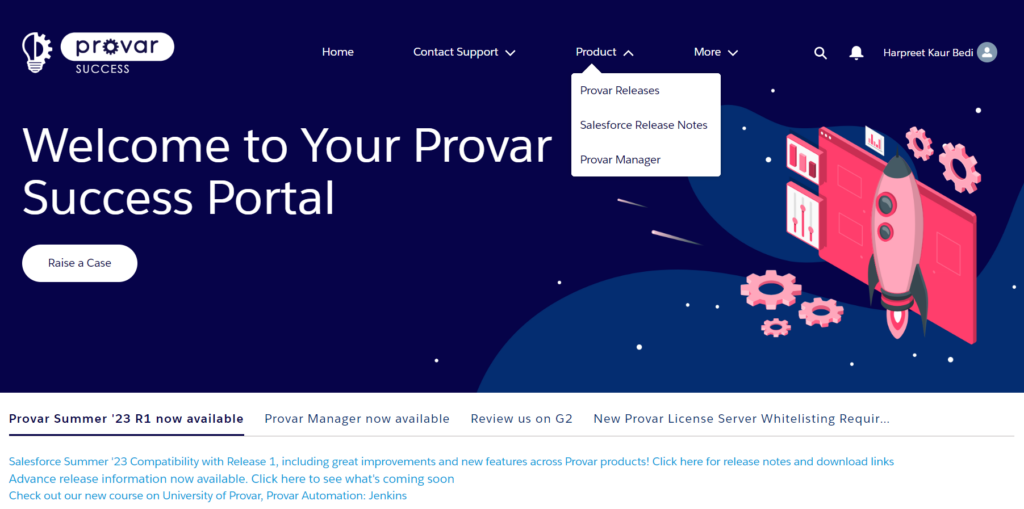 I received my welcome email, but the activation link has expired. What do I do?
---
The account activation link included in your welcome email is valid for seven days. If your link expires, you can simply reply to that original email requesting access.
Can I still use the old Provar Service Desk?
---
No. The Provar Success Portal is now the only way to raise cases.
How do I raise a case?
---
It's pretty darn easy. After you log in to the Provar Success Portal, you'll see three options: Latest Download, My Cases, and Help. Click View/Raise Case and then the New button in the upper-right portion of your screen. You'll be prompted to enter basic information about the case, such as the Status, Type, and Description. There's also a handy quick link (Raise Case) in the top menu if you're in a hurry.
Please note the first field prompts you to select a Contact Name. You or any other team member you would like to designate as the primary contact person. You can select anyone who can access your Salesforce instance, even if they don't have access to the Provar Success Portal. If left blank, this defaults to yourself.
How can I check on the status of my cases?
---
We made that easy, too! To learn more about the progress we've made on your request, you can view all of your recent tickets from the homepage of the Provar Success Portal and click the case number you want to review. You can also go to the My Cases dashboard via the top menu.
Can I view cases raised by other team members?
---
Yes, you can. Go to the My Cases dashboard and access different case information with the list views. The Open Cases for Your Account view will show all cases you and your team raised.
I am having trouble. What do I do?
---
Hey, no worries! Simply give us a shout at support@provartesting.com. Once registered, you can also create new cases by emailing us.
Can I still raise a ticket from inside Provar?
---
Yes. You can create cases inside Provar and attach relevant project and log files.
Can I still email my favorite Provar employee?
---
Unfortunately not. By centralizing how we receive customer requests, we can serve you better with greater visibility into case requests, and we can deploy the right subject matter experts.
Unless you have created a case via email to support@provartesting.com, via success.provartesting.com, or through the Provar application, we won't be able to deal with your issue properly.
I've been using many other group emails like provarsupport@provartesting.com. What happens to these?
---
We'll redirect all traffic from those legacy accounts to our new centralized platform. To ensure uninterrupted access, please use support@provartesting.com instead.
Can I contact you by phone or live chat?
---
Not yet. These are in our pipeline of changes, but we didn't want to make you wait, so we've given you access to all the benefits of the new community site. We will roll out more features in the future.
This is just one of the many ways we invest in you and the future of code-free, integrated, and automated testing for the Salesforce community worldwide. Happy testing!